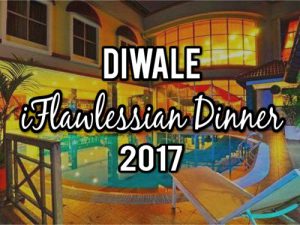 Event: Dilwale iFlawlessian Dinner 2017
Venue: De Palma Hotel Shah Alam
Are you a cosmetic company with lots of agents and stokis? Wanna give them a night to remember? Do an Annual Dinner, and reward them.
iFlawless is not just your average cosmetic company, they are the leading and one of the most recognized natural make-up foundation companies in Malaysia.
My mother uses it, my relatives use it, Fiq (One of our event planners) uses it and chances are, your aunties and neighbors if not your mum uses it too.
On the very last day of 2017, we had the honour of organizing their first ever Annual Dinner and we were very happy to be working with them, for very good reasons of course.
We liased with Ms Fitriah and dare I say that she's one hell of a manager – Very sporting, very friendly, and quite attractive-looking too.
As we do a lot of events every week, most of us have a clear picture of how the event is going to be – Things to expect, surprises to add to spice up the event, and ideas to solve a certain issue.
For some clients, they are strict and only follow their plan by the book, meaning that they are not so keen on listening to what we have to say when it comes to managing events.
The iFlawless team on the other hand, were very flexible when we wanted to propose some requests.
Things like where to position the tables, who controls the lightings, and who is the one person we should be liaising with because sometimes, the whole entire company will want to order us around when clearly, only one person should be in charge of us to ensure smooth coordination.
Their flexibility ensures our smooth event planning experience overall which is one of the reasons why I love their team so much.
Not only that, I was in awe of their company culture too – One look at their team and you know that they have a beautiful synergy.
They are a huge and established company but what makes them really amazing, is how they maintain relationship with all their staff, their agents, and stokis as though everyone is one huge family.
There were no paparazzi chasing the founders. Instead, they themselves are the ones carry the go pros to take pictures with us. Imagine that!
We got sucked in the excitement so much that even we went in and take a lot of photos and selfies while we were on duty. And not just us, the performers too had fun and the emcee Mr Miji himself was magical with his mic.
He was able to turn around problems as quickly and he was very open to all of our surprise suggestions, definitely more events with him coming soon!
Such a memorable event, one out of many that we will never forget.
Looking for an established event company in Selangor? We're based in Shah Alam but we can definitely cover the whole of Malaysia for your events.
Also, if you wanna see what other events we've covered, check out our portfolio here or Whatsapp 012-3047011.