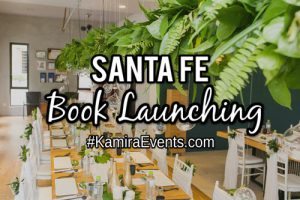 Event: Santa Fe Book Launching
Client: Santa Fe Interior Architecture Sdn Bhd
Venue: Bukit Melawati, Ampang.
What better way to get recognition than to launch a product in your own house?
Except for this specific client of ours, it's not just an ordinary house but instead, it's their very own office! And they even have a horse called Mocha which totally blew me away.
As if that's not enough, their office is not just in one building but two very huge 4-storey bungalows which is designed as a studio slash showroom.
We had the honour of organizing a book launching event for an interior design company in KL called Santa Fe Interior Architecture Sdn Bhd and when we went there to plan their event with them, we were amazed beyond words.
The ambiance when you step into the house is very peaceful and Zen as if you are in a resort workplace type of thing – the sound of water flowing, birds chirping, and even the people working there wear simple but smart casual attire instead of head on full corporate.
To show the true embodiment of green interior design, is by truly living in the in environment itself and for Santa Fe, it's a part of their life.
The ground floor is meant for their admin counter and meeting area.
The upper floor is their workplace where you can find everyone working together on one huge table and if you go higher up you'll have the scribbling area where you have a beautiful view of the lower levels.
If you go even more higher, you'll find another area where they showcase their products and merchandises which is really captivating.
Santa Fe requested a few things from us to help make their event smoother:
Emcee to officiate and mingle with the guests.
Sound system and deejay for the event.
Friendly event crews to coordinate the event.
Canopy set for the food and kitchen.
By opening the doors to their home office, their team did a remarkable impression on the guests as they can see who Santa Fe really is and how they work, LIVE.
Not only that, we also had a lot of guests complimenting on the overall event transformation that we all did together.
As it is a book launching event slash appreciation night, they took it to a whole new level to impress their clients by creating a fine-dining dinner in their office.
Yup, you read it right.
They actually took the initiative to do a dinner for their super VVIPs and our team helped coordinate the food serving from the ground floor all the way up to the first floor.
The Ground floor was where their huge book backdrop was placed for the cake cutting ceremony, the 1st floor was where the fine-dining magic happened, and the top floor for the peachy Press Release.
There was endless enjoyment during the night when there's a cocktail party going on too after the ceremony. With the coffee whisky and wine plus with the nice jazzy music background, everything adds up just nice.
Organizing a product launch within your very own office is indeed possible and it shows authenticity like no other.
Whether it's an appreciation night, a product launch, or a cocktail party, we can make it happen.
Call us now or check out our other past events here.