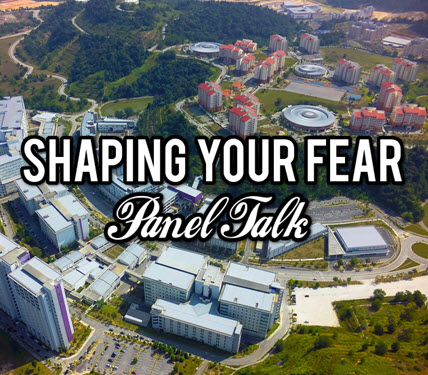 Event: Shaping Your Fear and Decision Making
Venue: UiTM Puncak Alam
No, we didn't organize this but we were chuffed to bits to get the chance to attend a huge event such as this.
The event was titled "Shaping your Fears and decision making" and it's a panel discussion where business owners who are experienced in the event industry can share what they face during their exploits.
3 big shots were invited – Moshi from Kitamen, Hillman from K2, and our very own founder Riaz Shah from KAMIRA Event Management.
Moshi couldn't come so Syahir replaced him from Kitamen's part and since Hilman from K2 didn't have any replacements, our very own Mr Nazsh Fiqqi stepped in to save the day instead and needless to say, we were killing it ?
The event was made by UiTM Puncak Alam students from the faculty of Event Management and Business as part of their final year project and I think it's a great idea that they chose to do this.
We shared everything there is to know about how to face dangers during events, how to deal with clients, and even mistakes that we did that nearly costed us our business.
Again, the event couldn't have made possible if it weren't for the students who had sleepless nights organizing this – When we looked at them, it reminded us of how we too were like that back then.
KAMIRA Event Management started since 2014.
We know that we're still young in the events industry but we're getting there slowly, one step at a time and if you wish to hear more of our stories, give us a call and we'll definitely drop by your place just for you ?
Teaching new talents is a part of our culture because we know how hard it is to get started once you graduated from college – Trust us, we've been there.
We've been to various universities such as Inti, Taylor's, Sunway, even MSU and on some of those events, you can even see our faces here on our site.
Some events that you might have seen us at previously…
Bazaar at Taylor's University
Roadshow at Sunway University
Mountain Dew Dota tournament at MSU
FIFA Fitness Competition at KDU Glenmarie
J-Fest at UiTM Shah Alam
Hotshots, Vax, you name it!
We are also one of the leading eSports game planner with our Kitamen Shah Alam branch which explains our involvement in the eSport industry.
To a better future, guys! thanks for reading and do check out our portfolio for our other events that we've covered so far.